Whether it's his leadership skills or his slick sense of style, we could all take a few notes from Pep Guardiola. Nissan's latest campaign for their electric vehicles, produced by The Gate, features all the ways we can be inspired by the famed football manager - including driving the new Nissan ARIYA or LEAF.
We were super excited when Dark Horses asked us to work on this campaign, having worked on previous campaigns with them over recent months. They have a long standing client relationship with Nissan, so it was a brilliant opportunity to work on a project that combined performance with beautiful car work.
Dark Horses briefed us to produce a series of short content films to promote the new Nissan Ariya and Nissan Leaf for their 'Be More Pep' campaign. The concept consisted of 4 vignettes of different characters taking inspiration from Pep Guardiola in their everyday jobs such as head waiter, parking attendant, barber customer and window dresser.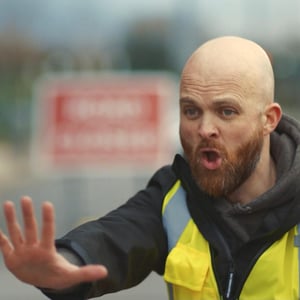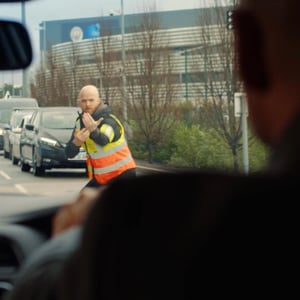 Our task was to bring the 4 different vignettes together in a cohesive way so that they demonstrated the 'Be More Pep' concept across each one.
Director Barry Kimber approached the creative from a performance and comedy point of view - to get the humour and light heartedness of people wanting to 'be like Pep' in their everyday lives - when in essence they could drive a Nissan electric vehicle to be like him!
Casting was incredibly important to these films, so we spent a lot of time finding the right people for the roles - we think the result is brilliant and they are all very 'Pep-esque'! Working closely with the creatives Matt and Will at Dark Horses, we brought the films together across a 3 day shoot in various locations across Manchester.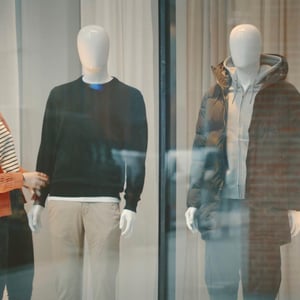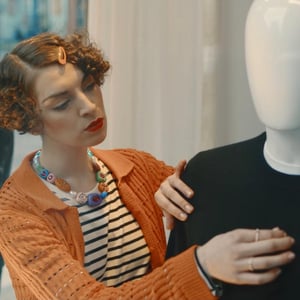 As expected, Pep Guardiola is a busy man, so we faced the challenge of scheduling our time with him around all of the other production elements and locations. We worked closely with Manchester City FC to shoot at their campus - the iconic Etihad Stadium in Manchester - with Pep himself.
Director Barry said of the shoot:
"The toughest part of the shoot was the day with Pep. We knew we had less than 90 minutes to get everything we needed from him. When the whole idea of the commercial is all about Pep, that's a lot of pressure. Fortunately he was great to work with. He had a very positive attitude, took direction really well and instinctively understood what I needed from him. To add to that, the sun came out (in Manchester, in February) at exactly the right time which was a massive stroke of good luck for the end scene."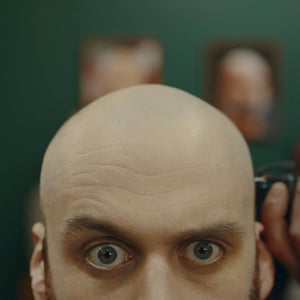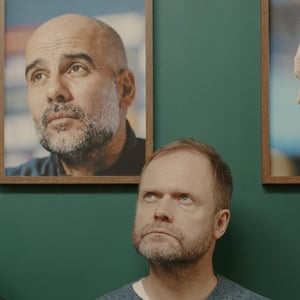 Post-production was done in-house by The Gate's top team of online and offline editors. For the colour grade we enlisted Steffan at Company 3 in London, and sound mixing and design were done by Alexander Wells.
The result was a suite of films demonstrating the 'Be More Pep' concept to launch the new Nissan ARIYA and advertise the existing Nissan Leaf. These assets can be found online across YouTube and Nissan's social pages.
Client & Agency:
Client | Nissan
Agency | Dark Horses
Creative Director | Francisco Lopez Nunez
Agency Creative | William Butler
Senior Producer | Andy Walsh
Senior Account Manager | Harriet Hall
Account Director | Alexandra Fearn
Crew:
Director | Barry Kimber
Producer | Hollie Newton
Production Manager | Lindsay Cowan
Production Assistants | Ellie Martin, Lewis Faithfull
1st AD | Stevie Fylan
2nd AD | Ben Eve
Runners | Dom Childs, Lois Griffiths
DOP | Mike George
Focus Puller | Ben Oliver
Focus Puller (Day 1) | Sean Lomax
AC | Adam Sheldon
VT Operator | Duncan Lees
Camera Car Driver | Alan Warden
Key Grips | Dave Leigh, Jason Lee
Grip Assistant | Jack Heels
Gaffer | Russell Greenhalgh
Sparks | Wes Smith, Sam Gibson, Adam Murphy
Genny Operator | Mark Stanley
DIT | Lauchlan Scott
Sound Mixer | James Jones
Art Director | Pete Rodwell
Art Director Assistant | Chris Lowe
Art Assistant | Ed Kelly
Construction | John Bruce
Stylist | Steven Spencer
Styling Assistants | Megan Oliver, Olivia Kelly
Makeup Artist | Lou McCann
Makeup Assistants | Georgina Wadsworth, Natalie Burrill, Nikita
Casting | Lee Mountjoy
Online/Offline Edit | The Gate Films
Colour Grade | Steffan @ Company 3
Sound Mixing/Design | Alexander Wells
Cast:
Pep Double | Dave Parkinson
Traffic Guy | Fraser Hammil
Other Traffic Guy | Marlon Bailey
Window Dresser | Freya Stotch
Window Walk By | Claire Hewitson
Head Waiter | Justin Marosa
Head Waitress | Bruna Borges
Waiters | Cameron McKendrick, Ali Allahdin, Kelly Flatley, David Mercer, Oliver Lefley, Gabriel Evans, Reo Williams, Sherrie Hamilton, Helena Sunderland
Hero Customer | Clark Alexander
Barber | Eddie Barile
Barbershop Customers | Ryan Broadhurst, Paddy Walley-Hammett, Mohammed Asif, Babatunde Obi, Keiran Rees, Barnaby Harrison, Nicauri Mayi Colon, Steve Redshaw, Danny Rees, Ashley Sewell
Like what you see? Think we could bring your idea to the screen, then contact us below.