How does an automotive company approach advertising their electric vehicles to those who are sceptical about the performance and power of EVs? Nissan's approach with their Excite the Sceptics series - produced by The Gate Films - was to invite the sceptics themselves to get behind the wheel of their EVs to put their preconceptions to the test on camera.
Dark Horses Agency tasked us with bringing to life their exciting new series for Nissan and Nismo. The job was to set out a number of exciting 'Top Gear' style challenges for Electric Vehicle sceptics, which saw them competing against Nissan's Formula E drivers Sébastien Buemi and Maximilian Günther. These challenges were designed to test if the sceptics' perception of EVs would change after their experiences.
The challenges were to be featured in a mini-series of four episodes of automotive content hosted by Formula E ambassador & presenter Derin Adetosoye for Nismo's Youtube channel. Three of Nissan's electric vehicles were to be featured, including the new Ariya, the brilliant Leaf and the exhilarating Nismo Leaf RC prototype.
Our first task was to find a unique and fun location suitable for the three challenges in mind, and alongside that a studio space to film the indoor shots. Carlisle Airport ticked all of our boxes, with limited air/runway traffic due to ongoing pandemic restrictions, a newly tarmacked runway, several hangars full of interesting aircraft (and obstacles!), making this the perfect site to put the EVs to the test.
The main objective of the project was to ensure the films, reactions and performances were fully authentic. This meant casting real Petrolheads without scripted performances. Keeping their opinions and reactions fully authentic whilst capturing their interesting and fun personalities was paramount. To recruit these 'sceptics' we contacted several of the largest car clubs in the country and set up a self-tape submission process for drivers who loved their petrol engines. After hundreds of entries we found three perfect candidates; Martin, Becca and Emma.
The first challenge in episode two saw Martin, a family man and muscle car fan, take on Maximilian Günther to see who could out-perform each other around a course with neon slalom poles that lit randomly, showcasing the awesome agility, grip and torque of the new Nissan Ariya.
Episode three saw Emma, our luxury car devotee, versus Sébastien Buemi to see who could most accurately use the E-Pedal of the clever Nissan Leaf (which generates additional battery charge using kinetic energy) to stop the car on a huge bullseye target.
The fourth and final episode saw racecar driver Becks battle it out with Sébastien Buemi (Formula-E Driver) to see who could raise the other's heart rate the highest in the mind-blowing Nismo Leaf RC.
The four episodes - one dedicated to each challenge as well as an intro episode - were all edited and colour graded in-house by our stellar post team, before being delivered for online release. The series has accumulated over 4.5 Million views on YouTube alone so far.
Director James Clancy said of the project -
"Growing up in the era of the original Gran Turismo video games and Super GT, this was a dream job for me. My knowledge of the brand and cars stems back from the 90's which probably held me in good stead for the job, especially the miles clocked up driving my heavily pixelated Nissan Skyline GTR. My treatment combined the spirit of these games, true authentic performances combined with state of the art high end production filming techniques including: Motion control, Motocrane tracking vehicles, FPV drones, 360 cams, cine-cams, and super stylish lighting combined with a brilliant crew. I really was a kid in a candy shop, and as a lifelong petrolhead myself, my mind was certainly changed!"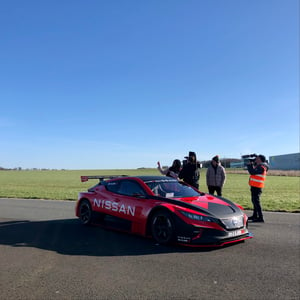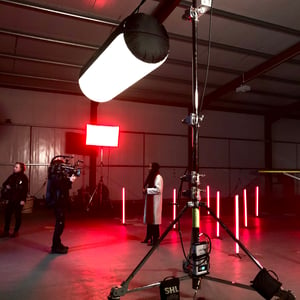 To view more of our automotive work, click here.
Client & Agency:
Client | Nissan Nismo
Agency | Dark Horses
Integrated Producer | Emily Mules
Account Director | Alex Fearn
Executive Creative Director | Steve Howell
Creatives | Josh Clarke, Daisy Elsden
Cast & Crew:
Director | James Clancy
Producer | Josh Boswell
Production Manager | Lindsay Cowan
Production Assistant | Anna Boase
Production Runners | Neil Ely, Ameerah Ayyad
1st AD | Eddie Leader
DOP | Mike Staniforth
Camera Operator | Leighton Cox
Focus Puller | Nick Coleman
AC | Luis Zarzo
VT Op | Alistair Topping
DIT | Lauchlan Scott
Camera Trainee | Khulu Khabo
Camera Car Driver | Paul Kenny
Key Grip | Renny Borthwick
Grip Assist | Malcolm Gilchrist
Gaffer | Craig Cowper
Sparks | Vinny Cowper, Alan Millar, Joe Bradley
Desk Op | Ollie Suckling
Sound Mixers | James Jones, Mick Haydock
Drone Pilot | Joshua Gardner
Camera Op/Spotter | James France
FPV Pilot | Leo Whitfield
Ultra Arm Tracking Vehicle | G6 Motion Control
Motion Control Arm | G6 Motion Control
Stunt Coordinator | Martin Shenton
Stylist | Steven Spencer
MUA | Katie Wrigley
Art Directors | Christian Lowe, Ruth Jones
Art Department Assistants | Imogen Peers, Abigail Simpson
Nissan Formula E Drivers | Sébastien Buemi, Maximilian Günther
EV Sceptics | Martin Tomlinson, Emma Bailey, Driving Bex
Edit & Grade | The Gate Films
Graphics | Lee Levy
Sound Design | Nice Sound Manchester
Like what you see? Think we could bring your idea to the screen, then contact us below.