We've been levelling up our team - from opening a Bristol office, to expanding our post production offering, and bulking up with more production rock stars, Team Gate has just got bigger.
Want to know more about our new starters? Here's a bit about them in their own words…
David Chandler - Managing Partner
Equal parts relationship builder and strategic contributor, David joins The Gate as Managing Partner, and will head up client relationships and collaborate with clients to deliver impactful campaigns. He brings over 19 years of marketing expertise, gained through working in both agency and in-house roles. Most of his career has been spent working for integrated and creative agencies, where he headed up client services function and was responsible for overseeing client relationships.

Most recently, David was SVP of Client Services managing delivery teams in Europe and the US and leading a large portfolio of business made up of digital, social, creative, as well as data and technology relationships.

During his career he has worked for some of the world's largest brands including Samsung, Coca-Cola, Microsoft and BMW, managing clients in Europe, Asia and the US. As well as heading up multi award winning campaigns, highlights of his career include working on London 2012 Olympic campaigns for Coca-Cola and leading several flagship product launches for Samsung.

When not in the office, David is either working out how to be a Dad as he looks after his newly born little girl, or swimming, cycling and running, as he puts in the hard training hours for his next long distance triathlon.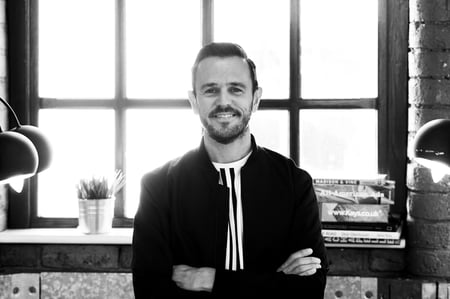 Lucy Edmonson - Production Assistant
Lucy graduated with a first-class honours in Sociology from Lancaster University, before working in account handling for a year at Havas Lynx. Before University, Lucy worked at Ear to the Ground, and interned at Warp Films, as well as working for Seal Films. Throughout University, Lucy had a number of jobs including filming for the sociology department, working in all of Lancaster's many clubs as a photographer, and continuing to work as a freelance runner and photographer's assistant, which she has done since 2014. As well as this, Lucy has had experience working in a number of studios, ranging from new-born photography studios to Boohoo Man, both shooting and retouching. Passionate about film, Lucy was involved in a large number of projects at Cornerhouse, including the BFI academy, and Viva Spanish and Latin film festival. She also acted as a youth juror at Sheffield Doc/Fest, and being involved in a number of short films and work placements. Outside of film, Lucy has worked as professional samba dancer, and is a keen aerialist. When she isn't hanging in the air, or dancing, you'll likely find her climbing.


Emily O'Brien - Production Assistant
Emily has joined us at The Gate Films straight out of university. By straight out of university we mean that she has only just finished her degree in English Literature at Bristol University and has yet to have even had her graduation ceremony yet. During her time there she was President of the Spotlights Theatre Society and also started the theatre company Bedlam Chorus. Having gained experience working in theatre production during university she is now looking to learn the ropes of film production and make the jump from theatre to film. Outside theatre and film she ran a half marathon in sub 2 hours earlier this year and is determined to run a full one within the next year (time dependent on when she actually decides to begin training again).

Ben Bradley - Production Assistant
Having graduated from Staffordshire University two years ago with a First-Class Honours degree in Film Production, Ben has built up experience working in television and predominantly on short films, before making the leap to the commercial world.
Outside of the commercial life, Ben enjoys photography, scriptwriting, watching Formula 1 and regularly going to football games to support his hometown team, Wigan Athletic.
You can also find him in Manchester on occasion after work, having a pint of blue moon at the local pub, or enjoying a bowl of vanilla ice cream (he's easily the plainest person at the office!)

Mike Nixon - Head of Post Production
Mike went to Salford Uni many years ago studying Graphic Design (graduated 2004) then went on to work for White Noise Productions for 13 years working up from junior editor to Senior Editor and Director. After that he decided to spread his wings and ventured into the world of Freelancing for a year before coming to work for The Gate.
Mike has always had a love of TV/Film/Music so watches lots of movies at the cinema and listen to loads of music new and old, plus he's still collecting records!
One of his main loves is an unhealthy obsession of the film Jaws and anything shark related in general. It's been his favourite film since the very first time he saw it many years ago! He's the proud (somewhat uncool) owner of lots of shark stuff, a giant shark head and prehistoric fossilised Megalodon shark tooth but to name a few.

Emma Ako - Junior Motion Graphics artist
Born in Ghana, Emma moved to London when she was 6. She studied 3D design at Northwest College then gained a degree in Landscape Architecture at Greenwich University. After graduating, Emma did a six-month internship at a Landscape firm as a CAD technician.
Emma has always loved drawing anime characters as a kid and wanted to have a career where she could be creative so she moved to Southwell in Nottingham and became a chef to pay for her Motion graphics course at the School of Motion.
Emma moved to Manchester and started freelancing but her goal was to work in-house so she applied to be a Junior Editor/Motion artist at the Gate and here she is! Her hobbies include climbing and drawing.

Harley Spence - Editor
Harley graduated with a masters in post production for television, and has since been working as an editor. She also plays guitar in a band
Her favourite film is Back to the Future.



Got a project one of our team can help you with? Contact us below.