As any parent will know, getting the right amount of fruit and veg into a kid's diet can be quite the challenge. That's where Soreen comes in - their new product launch combines their classic, great-tasting bakes with lots of hidden fruit and veg, and together with Cheetham Bell we came up with the perfect campaign to launch it.
Soreen is a Manchester based malt loaf brand, established in 1938. Their new Fruit & VegMmms range aims to help parents get more fruit and veg into their kids diets by hiding them in their yummy snacks that kids will enjoy. The challenge they had was how to communicate the product's great taste to parents. The creative agency Cheetham Bell came up with a great concept of getting real kids to try the product and give their honest opinion – with the camera rolling.
The minute the brief was sent over we knew this was a perfect fit for Jackie Oudney. Not only is her directing style strongly performance-led and emotive, but she's had a lot of experience shooting campaigns with kids in, of which we had 9!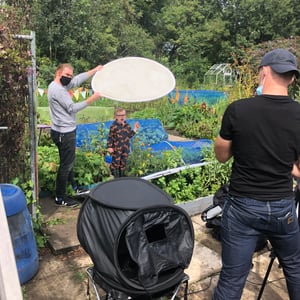 The scene was set at a beautiful allotment in North Manchester, so we headed there on a not-so-sunny summer's day praying that the early morning downpour would ease off before the cameras started to roll! We decided that at least with Soreen being a northern brand the rain would add some authenticity but luckily as we finished setting up on our first shot the clouds parted.
Our plan was to keep the cameras rolling whilst the children tried the product so that we could capture all of their real and honest reactions. This gave us plenty to play around with in the edit too!
The allotment was already so rich in fruits and vegetables and had so many different backdrops that we could film the children against, giving the ad a beautiful overall look, the colours of which we really brought out in the grade.
The result was a 30 second TVC (aired in the ad break of Gogglebox and on BVOD), a 6 second cut down for YouTube as well as a range of stills for website & social.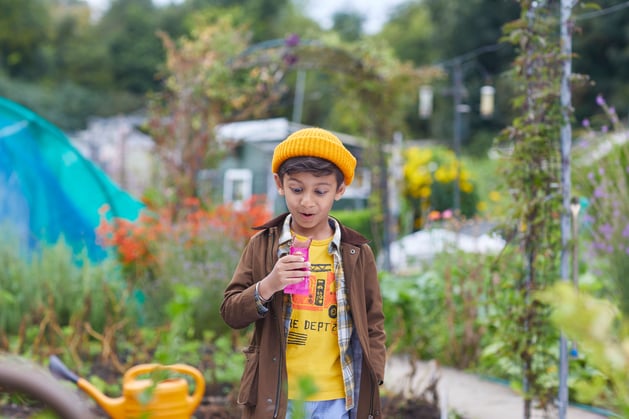 Right after the shoot we received some lovely feedback from the client at Soreen - "Thank you so much for today. Despite the dodgy weather start, the shoot was really well organised (well done Josh and the team) and Jackie really got the most out of the kids. Can't wait to see the edit".
As well as our friends over at Cheetham Bell...
"Asking children for their honest opinions certainly isn't without its challenges however the team at The Gate were fantastic from beginning to end and managed all aspects of production flawlessly, including the rainy British Summertime!"
Luke Dixon – Account Director at Cheetham Bell
Through The Gate, we managed to find the perfect director for our spot, Jackie Oudney. The team made sure she had everything she needed to deliver her vision, the production process was smooth and everything came together beautifully - we couldn't be happier.
Aron Sidhu – Creative Head at Cheetham Bell
Client & Crew:
Client – Soreen
Agency – Cheetham Bell
Director – Jackie Oudney
Producer – Josh Boswell
Production Manager - Lindsay Cowan
Production Co-ordinator - Nathan Miah
Production Assistant - Anna Boase
1st Assistant Director - Stevie Fylan
Runner - Lewis Faithfull
Runner - Tom Coulter
D.O.P - Shaun Atherton
Focus Puller - Sim Bala
Cam Assistant - Adam Sheldon
VT Operator – Greg Holt
DIT - Lauchlan Scott
Gaffer - Nathan Matthews
Art Director – Jeannine Marwood
Stylist - Steven Spencer
Post Production - In House @ The Gate Films
Like what you see? Think we could bring your idea to the screen, then contact us below.