As this Christmas is set to be a big one for families across the UK, Studio have recruited a #TeamEarly squad to help all those who want to plan well ahead of the Christmas season.
We were appointed by ITV to produce a suite of ads for Studio's #TeamEarly Christmas campaign starring Joe Swash. Studio.co.uk are an online retailer based in Lancashire - their objective with #TeamEarly was to help shoppers get organised with their low-priced gifts and a competition to win some Christmas spending money.
#TeamEarly helped the nation prepare for Christmas and rewarded those who joined, with the live competition giving shoppers the chance to win £1000 to spend at studio.co.uk. With Joe Swash leading the charge, the ITV partnership ads launched on 25th September and on each subsequent 25th day of the month.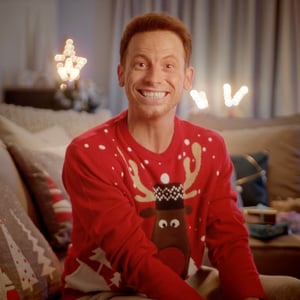 Shooting on location in Essex across 2 days with Graeme Hill directing, we set up a track and dolly for the walk and talks with Joe, whilst also shooting with steadicam for cutaways and pieces to camera.
For each phase of the campaign, we developed a 10s teaser, 30s main ad and a 10s ad to reveal the winner. Each set of films were rolled out around prime time ITV shows through September, October and November in the lead up to Christmas and supported a wider campaign developed by MediaCom North Group.
Our in-house post production team took care of post production for the ads, with the colour team over at Tracks and Layers providing the grade.
Vineet Raheja – Creative Head at ITV said:
"We're delighted to be building on last year's Christmas partnership with Studio. Christmas is an important time for both Studio and ITV, and what better way to help the nation go early and plan for that much-needed big Christmas this year. Working with The Gate Films on this meant we were in safe hands and had an amazing crew to work with. Everything went smoothly, which never happens when you shoot a Xmas ad so kudos to Charlie, Hollie and Graeme - the new members of our very own #TeamEarly."
Client & Crew
Client | Studio
Agency | ITV
Director | Graeme Hill
Producer | Hollie Newton
Production Manager | Lindsay Cowan
Junior Production Manager | Nathan Miah
Production Assistant | Alice Briers
Client Services | Charlie Sadler
1st AD | Rosie Owens
DOP | Time Green
Runners | Emily Clayton, Finlay George
Focus Puller | Warren Buckingham
AC | Ben Parish
DIT | Ewan Macfarlane
VT Op | Robbie Ross
Gaffer | Rob Stewart
Spark | Darren Jackson, Seamus Shanley
Desk Op | Jonny Gaskell
Grip | Andy Saur, Josh Jacob
Sound Mixer | Martin Seweryn
Art Director | Pippa Jameson
Style Assistants | Susana Fernandes, Karolina Rogalska
Art Dept Runner | Amelie Dowler
Set Builder | Daniel Robinson
Stylist | Rosie Farnworth
MUA | Lou McCann
Starring | Joe Swash
Post | In-house at The Gate Films
Grade | Tracks and Layers
Like what you see? Think we could bring your idea to the screen, then contact us below.