The world of Higher Ed advertising is morphing into a completely new species and the creative team at Access know this all too well and is why UClan sought their vision.
Not only do Higher Ed campaigns need to be memorable, but they need to spark an emotional connection with the audience and cut through the whirlwind of student recruitment comms across all screens and platforms.
Access were challenged with creating a vibrant, dynamic and personable campaign for the University of Central Lancashire's 2018/19 UK undergraduate student recruitment. The Together campaign was born. The team at Access came to The Gate to turn their creative direction into a living, breathing film to capture the hearts of students looking to start their next chapter. This is how we did it.
Director: Luke Logan
Agency: Access
Brand: The University of Central Lancashire (UCLan)
Producer: Laura Harris
Director Of Photography: Ryan Priestnall
Gaffer: Dan Tunstall
Post-Production: The Gate Films
Location: University of Central Lancashire campus, Preston
Air date: September 2018


The Mission.
The Gate was tasked with producing and directing a visually exciting, emotion-packed 60-second cinematic commercial to capture the essence of Access' Together concept. The campaign needed to not only elicit and emotional response for the key target audiences, but it was crucial to tackle with a multi-screen strategy in mind to reach targets at optimal points on their decision-making journey.
Alongside the Hero cinematic creative, Access sought our production know-how to get the most out of the shoot and deliver clever cut-downs for distribution across online and social platforms.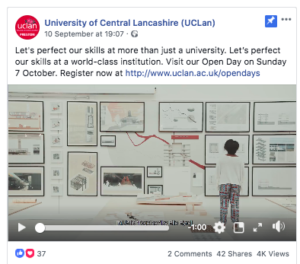 The Shoot.
A small but skilled team walked nearly 50 miles over a 4-day shoot across 4 of UClan's campus locations including 13 campus buildings. The jam-packed schedule ensured we captured a wide variety of inspiring activities across a range of disciplines across the university's offering. Chemistry experiments, Formula Ford cars, flight simulations and paramedic training to name but a few, showcased the diverse range of courses that UCLan has to offer to it's broad demographic of students.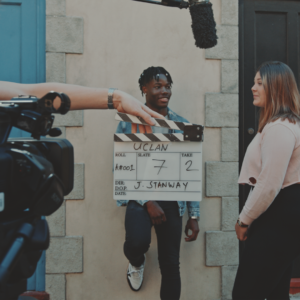 Hotshot Director, Luke Logan, jumped at the opportunity to not only capture UCLan's vibrant offering but also create a film brimming with energy and authenticity while remaining relevant to the audience. With the agency's strong campaign messaging backed up with detailed and thorough research, we were able to create a film that ticked all the boxes.
The Feedback.
The team at Access commented:
"The Gate has been amazing. They're professional, conscientious, flexible and above all, lovely people to work with. The shoot was pretty complex and had extremely tight timescales but it went so smoothly, due on no small part to their amazing work ethic. A big thank you to everyone involved and I look forward to working with you again."
If you have an upcoming project that you'd like the Gate to help you turnaround, be sure to contact us and let's give that story a heartbeat.