In our latest collaboration with Manifest and Tommee Tippee, we're challenging the online comparison culture that shames parents into believing there is any one 'right' or 'wrong' way to parent. The films that make up the 'The Truth Is...' campaign lead with compassion to empower parents to do parenting their way, without external judgement.
Tommee Tippee is a UK-based feeding bottle and childcare brand, and is the fifth largest childcare company in the world. Having worked with Tommee Tippee and Manifest on the multi-award winning 'The Boob Life' campaign in 2021, we were super excited to get to work on a brand new collaboration.
THE TRUTH IS...
The films, conceptualised by Manifest and developed with our in-house creative team, would depict parents finding celebration and comfort in moments of struggle. Whether it be flustered feeding in a crowded cafe, or sleepless nights trying to soothe baby to sleep, the films would demonstrate how Tommee Tippee's products make these moments a little easier. Continuing on the themes we worked with in 'The Boob Life', we wanted to use striking, abstract visuals to reflect the emotional truths of parenting in a way which made parents feel supported and understood.
To lead this project we needed a skilled director with experience using visual and in-camera FX, so Matt McDermott was the perfect man for the job. We cast the films with Matt, selecting our final cast from real parents and their children to bring as much authenticity and emotion as possible to the films.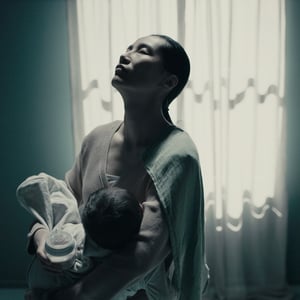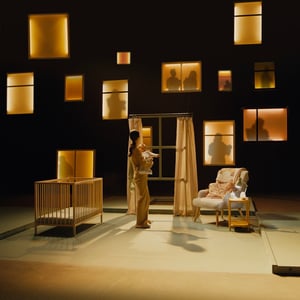 LIGHTS, CAMERA, ACTION
We shot all the films at Foundry Film Studios across two studio spaces, with our amazing art department building each of the sets from scratch - from collapsing walls and confetti canons to abstract offices and nurseries! They had the task of rotating out the huge sets multiple times each day so that we could film against each of the seven different setups in just three days.
The shoot also involved some carefully performed stunts, including making the walls of the nursery setup fall away to reveal the skyline of lit-up windows behind. Scheduling the shoot around these perfectly timed stunts as well as the feeding and nap times of all the babies on set was no mean feat, but our production team ensured that each of the three days ran smoothly so that we could capture everything we needed.
We also had photographer (and new mama!) Molly Megan on set capturing stills for the campaign against each of the different sets. Take a peek at all the behind-the-scenes action...
IN POST
Our in-house post-production team managed the offline and online edits, VFX, and the colour grade, which was especially important for these films to enhance the carefully coloured sets and lighting we'd used. The final result was a powerful and emotive series of films each showcasing a different parenting truth, as well as a final 50" brand film and cutdowns, all supporting the wider social and digital #TheTruthIs campaign.
Manifest Group said of the project:
"The 'Truth Is' campaign is a direct response to the toxic underbelly in the online parenting space, an issue we are passionate about redressing. The Gate & Matt not only 'got it' creatively but shared our mission to change the conversation.
"It was really important for us to work with a Director who was also a parent so that their own lived experience was felt through the creative process. The nuanced nature of the campaign had its challenges but as working parents our vision came from a place of authenticity. It's amazing to see people relating to the films and feeling inspired to share their own truths."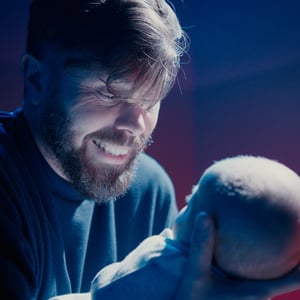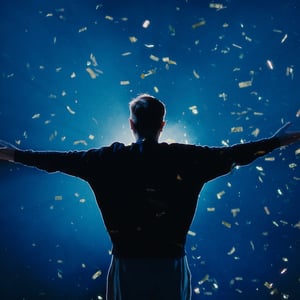 We also spoke to director Matt McDermott all about the campaign…
What was it about the project that appealed to you as a director?
"This project really resonated with me right from the start. As a parent myself, many of the experiences good and bad, the challenges, the judgements we had felt first hand, just like so many other new parents as we found out delving into the research the agency carried out. Many of us in the team brought our own emotional experiences as parents into the mix at the early ideas stages which we then developed into the film ideas with the agency."
What were your main objectives going into directing the films?
"I wanted to use the surreal and theatrical techniques to really shine a light on the real life emotions of being a new parent. In reality being a new parent is hard and hugely life changing! Yet at the same time it can bring about the most intense joy and love you feel in your life.
"I wanted to show a sense of light and shade in relation to parenting. Negative experiences in parenting can so quickly be redeemed and flip to the opposite side of the coin with an amazing, joyful moment such as the surge of love you get once the child is finally asleep.
"The fact that those two sides of the coin are so close together is something that's such a unique part of parenting. We wanted to capture these complex changing emotions."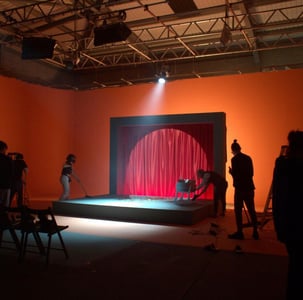 How was the production and post-production process?
"I was brought on board early to work closely with the agency and The Gate to develop the initial ideas. It was refreshing to be brought on board so early in the ideas process, it's definitely my favourite way to work. It was fun to be involved with the ideas and see how they evolved a long way from the initial concepts that were first presented to us.
"It was such a pleasure to work with the client, agency, the film crew in Manchester and the entire team. In every department from; casting, wardrobe, hair & make up, cinematography, our 1st AD, art direction team, music, edit and post - everyone brought their A-game and really added to the emotional impact and storytelling.
"As with a lot of my projects, post-production for me is a crucial part of the filmmaking process. Working with the in-house team at The Gate on the post production was brilliant, from edit to grade to VFX it was a very creative and collaborative process. We wanted to achieve most of our effects in-camera to give us a theatrical look and feel. All the practical effects such as the walls in the room falling down were captured for real in-camera."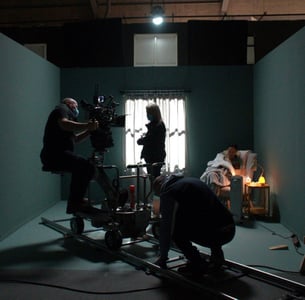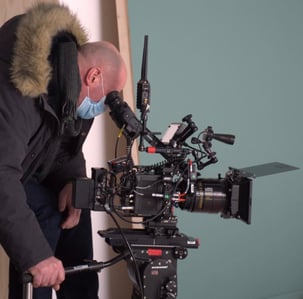 Were there any challenges you faced throughout the production process?
"The first challenge was condensing so many great ideas into short sequences which communicated clearly and succinctly. The concepts for each narrative were all grounded in extensive real life research and parenting experiences. We needed these emotions around the ups and downs of parenting to come across in a direct and memorable way. So distilling the ideas and presenting them in a stylised and theatrical way both in the sets and the lighting/cinematography combined with authentic performances was my approach."
What were your main takeaways from the project?
"We did some great casting sessions where we talked at length with the actors who were all real mums and dads about their own experiences so the performances on set always came across as real, albeit presented in heightened and dream-like style.
"For example; our lead actor in the cafe film is a mum of 7! She had felt judgement and criticism from various people regarding her choices in how to feed her baby - whether it was breastfeeding or bottle feeding. Which shows there really is no 'right way' to parent and to follow your own gut and instinct with your own parenting choices is the right way to go.
"Every parent and every child is different. We wanted to show whatever your parenting choices Tommee Tippee has got your back."
Client & Agency:
Client | Tommee Tippee
Agency | Manifest
Senior Account Manager | Danni Blakeslee
Associate Creative Director | Daisy Phillips
Senior Campaign Executive | Oliver Kirk
Global Executive Creative Director | Kostas Karanikolas
Production & Crew:
Director | Matt McDermott
Producer | Rhiannon Lewis
Production Manager | Lindsay Cowan
Production Assistant | Ellie Martin
Production Runner | Lewis Faithfull
1st Assistant Director | Sarah Jones
D.O.P | Nick Bennet
Focus Puller | Sean Lomax
AC | Henry Northrop
VT Op | Duncan Lees
DIT | Lauchlan Scott
Grip | Dave Leigh
Gaffer | Chris Sarginson
Sparks | Camille Sainsbury, Charlotte Stevens
Lighting Desk Op | Jake Jevons
Rigger | Ian Stevens
Stills | Molly Megan
Stills Assistant | Mark Nolan
Art Director | Lisa Westwell
Standby Art Director | Antony Wright
Art Department Assistants | Tosh Gooding, Rick Pannone
Stylist | Rosie Farnworth
HMU | Louise McCann & Katie Wrigley
Edit, VFX & Grade | The Gate Films
Like what you see? Think we could bring your idea to the screen, then contact us below.